InTime Scout Maps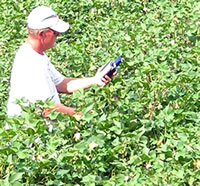 Scouting with InTime Scout Maps allows the grower to easily identify problem areas, and the ability to make timely decisions that will increase profitability.
Joe Townsend,
Townsend Ag Consulting
InTime's Scout Maps provide farm managers with invaluable information about their crops and fields. Derived from aerial imagery, scout maps show variations in near real-time so that scouts know exactly where to look in the field to determine where corrective or preventative measures are needed.
Most of the scout maps are available to the grower within 24 hours of image acquisition. Scout Map products include data files that may be loaded onto GPS-Equipped Personal Digital Assistants (PDAs) for electronic scouting, as well as a printable PDF report.
Clients may choose from any of the following Scout Map models. Each model is designed to provide different information about the fields. Click a link below, or scroll down to learn more.
Vari-Scout™
Vari-Scout™
maps variation of biomass within a field and divides those differences into management zones.
Vari-Scout™
helps crop managers make better scouting decisions and address those decisions with variable rate crop applications driven by variable rate prescriptions created via InTime's Crop-Site software. InTime's variable rate prescriptions for plant growth regulators, insecticides, herbicides, fungicides, mid-season fertilizers and harvest aids have proven their value in helping producers better manage their crops while keeping their input costs to a minimum.
Vari-Scout™
uses include:
VR PGR applications
Site-specific plant bug applications in cotton
Site-specific nematode applications
Site-specific stink bug applications in rice
VR harvest aid
Crop health indicator
Site-specific redvine application
Identification of cotton root rot extent and severity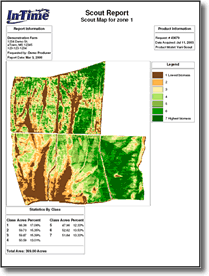 Vari-Soil™
Vari-Soil™
identifies variation in soils within a field based on soil color. This product is a very cost-effective method to map soil variation across a farm without intense field labor and equipment.
Vari-Soil™
provides an alternative to electrical conductivity methods typically used to map soil variation.
Vari-Soil™
offers the same easy prescription writing as InTime's other Crop-Site products.
Vari-Soil™
uses include:
Soil fertility management
Directed soil sampling
VR applied P and K fertilizers
VR planting
VR soil applied herbicides
VR liming applications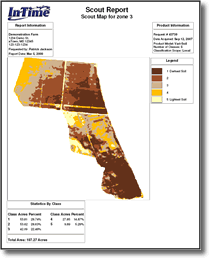 Vari-N™
Vari-N™
provides a snapshot during the growing season of nitrogen uptake within a crop, mapping areas of high, moderate, and low nitrogen uptake.
Vari-N™
information converted to InTime prescriptions allows crop managers to address nitrogen efficiency and effectiveness with variable rate applications, both pre-season and mid-season. This practice reduces nitrogen costs, promotes a more uniform crop and maximizes yield potential.
Vari-N™
uses include:
VR nitrogen management
In-season plant health management
VR PGR applications
Site-specific plant bug application in cotton
VR harvest aid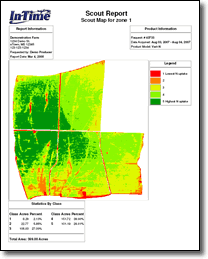 Vari-Gation™
Vari-Gation™
monitors moisture stress in the crop by identifying variation in crop canopy temperature. Producers use
Vari-Gation™
to more-effectively manage water usage, irrigation uniformity and system design.
Vari-Gation™
uses include:
Irrigation effectiveness
Uniformity and distribution of irrigation system
VR pivot irrigation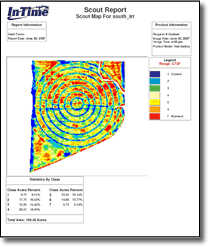 Vari-Scout Plus™
Vari-Scout Plus™
provides growers with the same great uses as
Vari-Scout™
.
Vari-Scout Plus™
uses an advanced algorithm to calculate the number of classes to fit the variation that exists in the field. By only supplying the user with the number of classes needed, scouting time can be reduced.
Vari-Scout Plus™
can also provide the grower with a quick measure of the effectiveness of Variable Rate applications to increase uniformity. Prescription writing with Vari-Scout Plus™ is just as simple as before.
Vari-Scout Plus™
uses include:
VR PGR applications
Site-specific plant bug applications in cotton
Site-specific nematode applications
Site-specific stink bug applications in rice
VR harvest aid
Crop health indicator